Our community's been saddened by too many devastating losses here this past month, so we are especially touched that the momentum continues for the Tripawds Community Campaign.
Tripawds Campaign Update: Week 2
By Friday, we reached nearly 25 pawcent of our goal at just over $2,000! This is an amazing thing, thank you so much everyone.
We received a very generous gift from Sarah Crook, Mom to Spirit Jake, which qualified her to receive a $200 Gift certificate to VavraItaly.com!  Many thanks to Comet and Monkey Butt for providing this certificate.
And another thoughtful gift came in from Spirit Magic's Mom Diane, who says she is anxious to see us reach our goal.
Spirit Tri-Pug Maggie has another fan out there; on Wednesday, Grandma Peggy Riley sent us a generous gift in memory of Mags.
Spirit Etta, who we were so heartbroken to say goodbye to, has a big fan club too. Her Mom Julie sent us an amazing gift in honor of her sweet, sweet girl.
To celebrate the memory of Angel Dog Hopalong Harley, his friend Jennifer Vickman sent us a thoughtful gift, and included this quote:
'If there is a heaven, it's certain our animals are to be there. Their lives become so interwoven with our own, it would take more than an archangel to detangle them.' -Pam Brown
Finally, all of the mittens and socks that Gayle and Holly offered to knit, for contributors over $100, are gone!
But wait! There's more . . .
Tasha's Challenge
Trucker
Tasha is challenging all of her buddies to donate $ 50 dollars a month for the next four months. Admin Guy has made it easy for all Tripawds supporters to do this. All you need to do is subscribe for an auto-renewing contribution at levels to meet your budget; either $25, $50 or $150 per month. This safe and secure PayPal subscription will end after four months.
Take Tasha's Challenge Today
!
Gerry's Pledge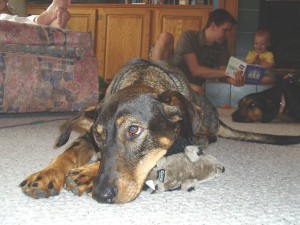 Gerry and his Mom are going to pledge to give $10 to the campaign for each pup that attends their
next Tripawd Pawty in Madison
, Wisconsin! And if you can't attend in pawson, remember that you can always honor Gerry and his brother, Spirit Yoda, by
Chipping In here
!
Thanks for Everypawdy's Help
If you have ever wondered what you might do without the support this community has to offer, please consider a small contribution.
The sooner we reach our goal, the sooner we can stop asking for help. Thank you all for your continued support!
Follow along with the campaign's progress in our Tripawds Campaign Discussion Forum Topic.
Remember: Tripawds now has a Tripawds Facebook Cause Page, in addition to our Tripawds Fan Page. Take a look, and then urge your friends and family to join! It costs nothing but it can help the campaign by building awareness of this community and our mission.