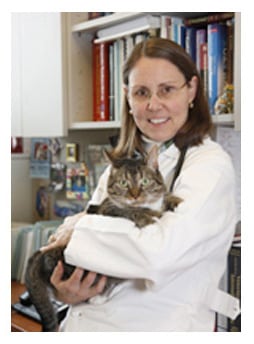 Tripawd pawrents, now's your chance to ask an oncologist your dog or cat cancer questions. Join us this Sunday when we meet Dr. Ann E. Hohenhaus from the Animal Medical Center in New York City.
We'll talk with the good doctor about animal cancer breakthroughs, take live calls and then she'll join us in the Tripawd Chat Room immediately following the show to answer more questions.
A big thanks goes to Tripawds member Jill, who introduced us to Dr. Hohenhaus and made this possible.
Guest:
Ann E. Hohenhaus, DVM
Diplomate DACVIM (SAIM, Oncology & Small Animal Internal Medicine)
Certified Veterinary Journalist
Dr. Hohenhaus is a staff Doctor and Head of the Jaqua Transfusion Medicine Service at The Animal Medical Center in New York City, a non-profit veterinary center that has been a national leader in animal care since 1910. As an academic veterinary hospital, The AMC promotes the health and well-being of companion animals through advanced treatment, research and education.
Dr. Hohenhaus also oversees oncology care for Tripawds members Jill the Cat and Ajax.
Join Dr. Hohennaus in the Tripawds Live Chat room after the show on 05/19 for more questions and answers about cancer treatment for cats and dogs!
*You do not need to call in to listen to the show. Only call if you have questions for Dr Hohenhaus, or post your questions in the chat room during the show. Keep them brief and to the point, we will try to work them into the show.