Anyone who's been following the progress of recent tri-kitties in the discussion forums knows that Charlie has had some challenges, taking his medicine and messing with his stitches.
Reading Charlie's blog, however, we're happy to hear he's doing much better!
Charlie actually had to be boarded at the vet so he could be closely monitored after getting out of multiple cones and going through numerous bandages to disturb his stitches.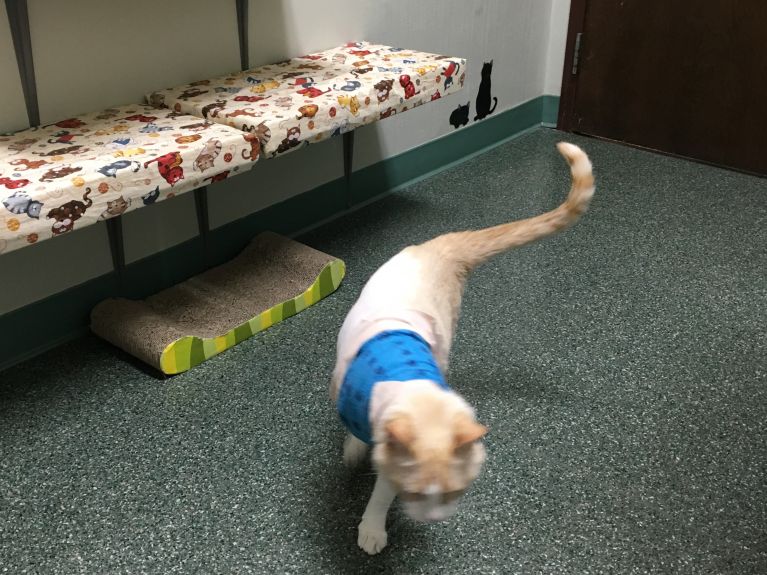 Charlie's mom says…
"It's also been good for me, giving me a chance to recover a little from the terrible stress of the last two weeks…It was the right decision to board Charlie. I miss him, but it was the right thing to do!"
You gotta do what you gotta do in the best interest of a quick complete recovery!
Follow Charlie's progress and wish him well with a comment on his blog. And don't miss the growing list of tri-kitty bloggers!
Share Your Tripawd Tuesday Tale!
Each Tuesday, Tripawds from around the world can enter for a chance to be "Tripawd of the Week." Just share your Tripawd's story and you're entered to win! On every Tuesday of the week, tell us about your three-legged hero here in the Tripawds Discussion Forums or on the Tripawds Facebook page. Just follow these easy steps:
In a few short sentences, describe your three-legged hero's story.
Include a photo or video.
Include a link to your Tripawds Facebook page, Forum topic and/or Tripawds blog (if applicable)
All entries must be received by Saturday at 11:59 pm. One Tripawd story will be selected at random to be featured the following Tuesday.