Are you able and ready to volunteer a bit of your time to help the Tripawds Nation? The Tripawds Foundation is looking for great volunteers like you!
Here are two areas where we could really use help:
Volunteer Opportunity #1: The Tripawds Pals Helpline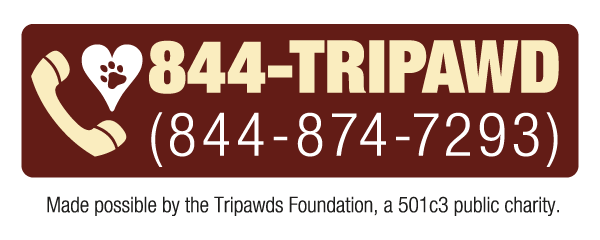 Do you remember how scary and lonely it was like when your vet recommended a leg amputation for your best friend? We do, which is why the Tripawds Pals Helpline exists.
The Helpline provides emotional support for anyone facing a limb amputation for their cat or dog.
Volunteers are community members who offer emotional support both pre and post-amputation. They direct callers to vital information at tripawds.com and elsewhere that could help in their journey.
The Helpline needs two volunteers: one for a Saturday shift and one for Monday. You choose the hours.
It costs you nothing and you can do it from your couch!
All it takes is being a Tripawds community member with at least a few months of experience being a Tripawd parent.
Just answer your phone if a Helpline caller dials in, during whatever hours you can be available. You decide which.
If you can commit to a Saturday or Monday for at least three months, we'd love to have you join us.
Some weeks you might get a call, other times you won't. It's hard to say when you will get a caller, but we just need someone to commit to being available for at least three hours to help that one worried, scared Tripawd parent who calls in.
Learn more about the Helpline, then contact us to let us know you're interested. Please let us know soon, we really need the help.
Volunteer Opportunity #2: Research Assistant
Are you good at researching on the web? Tripawds Foundation needs a volunteer research assistant to help us apply for grants.
As we previously mentioned, Tripawds Foundation has an exhibit at the American Animal Hospital Association conference in Austin Texas, 3/30 – 4/3. While we're there, we would like to make contact with other exhibitors whose companies have charitable giving programs. But first we'd like to find out which exhibitors are good prospects.
We need a research savvy individual who can volunteer a few hours to complete the project by Sunday, March 20.

Here's what the project looks like:
Pinpoint AAHA conference exhibitors with charitable giving programs.
Enter the URL and other details iinto an existing Google Doc that has all conference vendors listed.
We do have one member working on this but we could really use a second to take some of the load off (there are a couple hundred exhibitors). Any additional help is greatly appreciated.
Got questions? Contact us today!