Three-paws up to the amazing crew at That Pet Place in Lancaster, Pennsulvania! As we reported in April, this pawesome pet supply retailer chose Tripawds Foundation as their Pet Cancer Awareness Month charity. Thanks to the hard work of everyone on their team, Tripawds Foundation is receiving an incredible gift of $1, 411.81!
The Tripawds Foundation is beyond grateful for the generosity of every shopper and team member who helped raise these funds. This is a huge help and will go far in helping to continue the direct assistance programs offered to Tripawd parents around the globe.
Thank you That Pet Place! 3-paws up to everyone!
Please show your support to this generous company by shopping online at That Fish Place — That Pet Place. They have a huge selection and incredibly low prices on quality pet supplies for every animal from fish to cats to dogs to reptiles and more!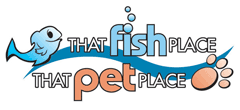 Does Your Favorite Pet Store Hold Fundraisers?
If your favorite pet-centric retailer holds occasional fundraisers for animal welfare non-profits, why not consider sharing the work of Tripawds Foundation with store management?
Whether they're doing an annual in-store fundraiser like That Pet Place, or you would like to participate in an event and represent the Tripawds community, we would be thrilled to be considered. Tripawds Foundation will help make the event as pawesome as possible!
Feel free to download a Tripawds Foundation brochure to share facts about the direct support programs offered to pet parents of animal amputees. You can also get some brochures mailed to you.
If you want more information to share with your favorite retailer, just contact Tripawds Foundation anytime. The board is ready to answer any questions you or the store may have.
Save