NOTE: Visit the Tripawds Discussion Forums for quick feedback and support from members about cancer in pets or amputation for dogs and cats. Or, download the Tripawds e-books for immediate answers to the most common dog amputation recovery and care questions.

Contact Tripawds
Email & Social Media:
Contact us directly via email at: jerry (at) tripawds.com
Connect with Tripawds via your favorite social network.
Address:
Please notify us if sending time sensitive material.
Tripawds
240 Rainbow Dr., #14065
Livingston, TX 77399
Send Message:
The Tripawds Foundation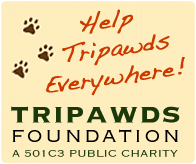 Tripawds is a user supported community, made possible only with your help! The Tripawds Foundation is a 501c3 not for profit organization established to help amputee pets and their people in as many ways as possible. Learn more about the Foundation and consider making a tax deductible contribution today!
Who is Agreda?
Jerry was the Chief Fun Officer of Agreda Communications, the marketing firm founded by Jim Nelson and René Agredano. He was the original inspiration behind Tripawds, and the primary reason they sold everything they owned in 2007 to travel the country together with him in an RV, as featured in Nature: Why We Love Cats and Dogs.
Subscribe to Tripawds News
Stay informed with email updates from the Tripawds community! Receive the latest news, popular blog posts, hot forum topics, and informative articles from the archives. Unsubscribe anytime and keep a Tripawds Esty Store coupon!